The Greatest Comedian of Our Time—Colin Quinn: Unconstitutional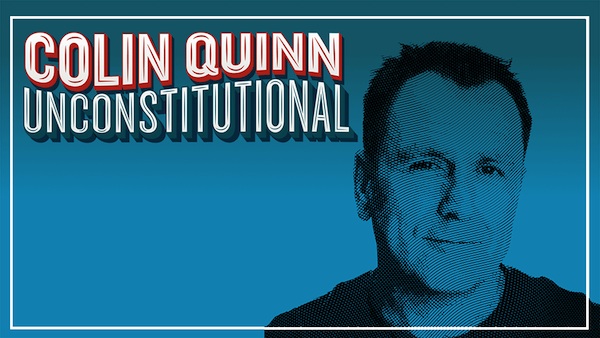 The Humanity Party® needs a popular spokesperson, a celebrity, someone who is valued by Americans because he/she speaks to their humor with his/her humor. Comedians can get away with many things that THumP®'s spokesperson cannot, although saying the exact same things.
THumP® has found its first celebrity! Whether he agrees to support our movement or not, Comedian Colin Quinn has produced an act that is true blue THumP®.
Inspired by the same vision as THumP®, Quinn delivers an outstanding and detailed (although irreverent to those without a sense of humor) overview of the United States Constitution. He hits almost every one of THumP®'s points, and ends his sketch with EXACTLY WHAT THUMP® PROPOSES:
"Four months, Philadelphia, no press!" 
(NOTE: This euphemism refers to the time spent by the original authors of the U.S. Constitution [four months] in Philadelphia, Pennsylvania, debating and producing the current Constitution. At that time, the press was kept out of the deliberations.)
THumP® is the "outside observer" that Quinn opines that America needs.
Share Mr. Quinn's comedians sketch with the entire world! If you are bored with reason and lengthy discords, LISTEN TO QUINN'S COMEDY: "UNCONSTITUTIONAL". (Netflix® recently released it.)
Produce bumper stickers, endorsed by the Humanity Party® that say:
FOUR MONTHS, PHILADELPHIA, NO PRESS!
Which means: THE UNITED STATES OF AMERICA NEEDS A COMPLETELY REVISED CONSTITUTION in order to solve its problems!
ABSOLUTELY INCREDIBLE.
Watch with Netflix® subscription.